Having recognised the growing demand for healthy skin and professional aesthetic treatments in Ireland, Professor Jack Kelly, Consultant Plastic, Reconstructive and Aesthetic Surgeon, set up an aesthetic clinic alongside his medical clinic. With the help of a team of nurses and aestheticians and the very latest in technology, The Kelly Clinic has for many years been treating skin issues including pigmentation, premature ageing and loss of elasticity, firmness and volume, using FDA-approved treatments. They also prevent and protect against future skin issues.
The skin, the largest organ in the body, is constantly exposed to the elements and unfortunately our Irish climate leads to a high rate of skin cancers as well as pigmentation and skin discoloration issues. Patients want safe, natural results delivered by the best practitioners in the safest of environments, to achieve clear, smooth and firm skin on the face and neck particularly. Professor Kelly believes education is power and the team is trained to give client's homecare regimes which target specific needs and information about protecting their skin from the elements. The service is open and available to all.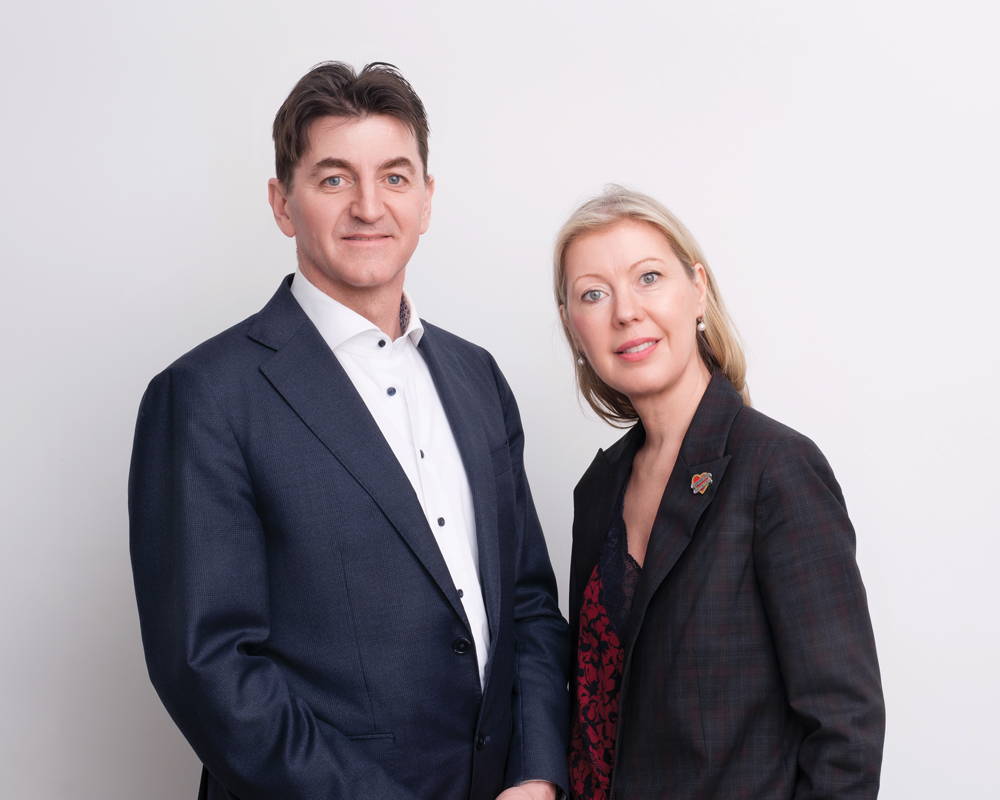 Professor Jack Kelly and Therese Kelly, The Kelly Clinic directors.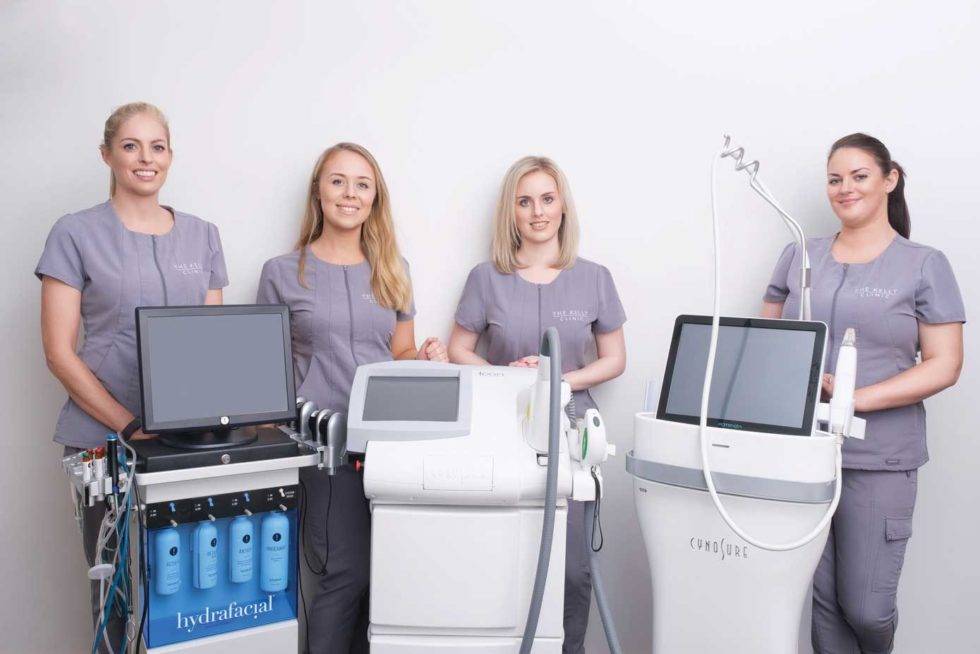 THE TEAM
The Kelly Clinic aims to make one look the best one can for one's age. All procedures are carried out in a controlled and medical environment with state-of-the-art technology. Due to increased demand from clients, Professor Kelly has recently been joined by plastic surgeon Mr Theogren Balakrishnan. Professor Kelly has a team of four aestheticians, two of whom are qualified nurses.
THE TREATMENTS
All invasive injectable procedures are carried out by the Consultant Plastic Surgeon while the highly experienced team of aestheticians and nurses look after all things skincare related and non-surgical procedures. The team offers a range of skin treatments for ageing skin, skin laxity, pigmentation, high colouring and scarring including Potenza, skin tightening, IPL laser, Hydrafacial treatments, chemical peels and more. The Clinic also offers skincare brands ZO Skin Health and Skinceuticals.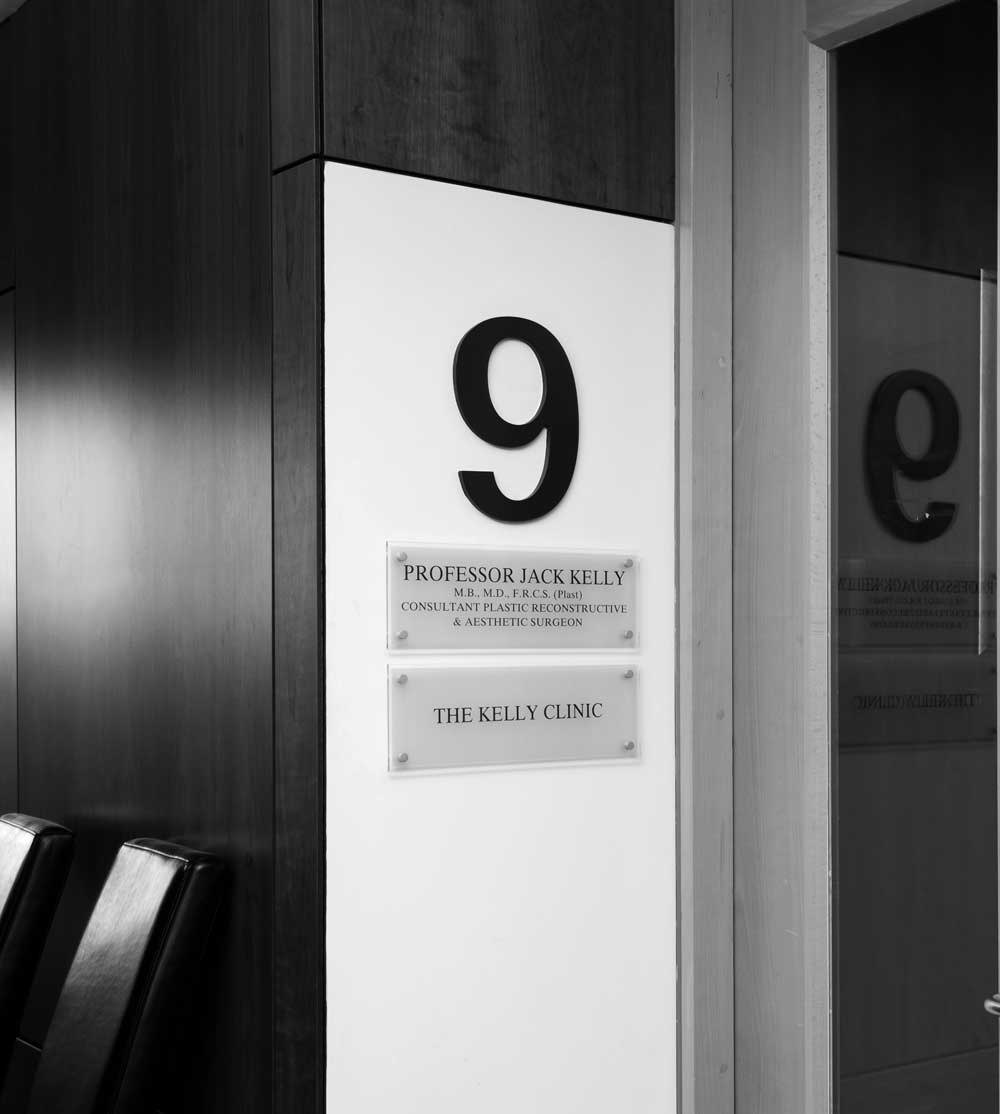 THE POTENZA
The Kelly Clinic is delighted to have recently become home to Ireland's first "Potenza", a FDA-approved micro-needling and radio-frequency device, a gamechanger for those looking to maintain a youthful appearance and age gracefully. Potenza treatments achieve excellent results on scars and also have the ability to lift and tighten skin, define facial contours, improve skin laxity and stimulate collagen fibres, resulting in the restoration of a more youthful appearance, improvement of the skin texture and refinement of fine lines and wrinkles.
The neck and jawline areas are proving the most popular for treatment, both areas renowned for being the most difficult to target until now. The Potenza achieves amazing results on loose skin on the neck. With little or no downtime, the treatments are suitable for most men and women.
LASER IPL
The Kelly Clinic's gold standard laser device offers treatment for:
-Vascular concerns: broken veins, high colouring and redness associated with rosacea.
-Pigmentation irregularities such as sun spots, uneven skin colouring, skin discoloration and sun damage.
-Textural irregularities such as open pores, uneven skin texture, skin thickening, fine lines and wrinkles.
-Scarring, including surgical and trauma scarring.
LET US ANSWER YOUR QUESTIONS
Clients attend The Kelly Clinic safe in the knowledge that rigorous product and technology training has taken place. Contact the clinic to organise an initial consultation to discuss your skin concerns and advise on a treatment plan. No matter where you are, The Kelly Clinic team will assist you.
The Kelly Clinic, Suite 9, Bon Secours Hospital, Renmore, Galway.
Tel: 091 786 841
Instagram @thekellyclinic
Product can be purchased over the phone or online.